Stisted Hall Summer Fete – an annual affair which raises money for the home.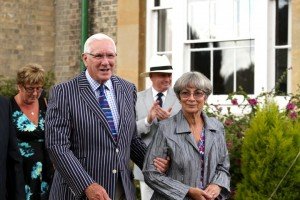 The weather at Stisted Hall in previous years had been excellent but was not kind this year. However, despite the heavy rain throughout the day, the event was well attended and visitors were welcomed by the President of the Association, Alan Garner. The RW Provincial Grand Master of Essex and his good lady arrived at 2:00pm to carry out the official opening of the fete and performed additional duties (in between rain showers) such as calling the raffle tickets, managing the 'heads and tails' competition, talking to residents and presenting prizes. As well as being an enjoyable and worthwhile occasion, it was also a wonderful chance for fellow masons, ladies and friends to meet up and chat in an informal and relaxed setting. And did I mention the kids having fun too!
As usual there were lots of stalls at Stisted Hall selling food, drinks, ice cream, hot pork rolls, cakes, items of interest and lots of other things – too many to mention. And there was of course a bar. Other stalls enticed the paying customers to take part in games of chance but of course the house always wins. And a good job too in this case as it all went to charity.
Traditionally, the Widow's Sons Motorcycle 'gang' attend the Stisted Hall Summer Fete and this year was no different. Gorgeous bikes left on display to drool over.
A number of brethren from St Laurence Lodge also attended, including Matt Pyne, a Provincial Grand Steward, who helped to keep things running smoothly with his fellow stewards.
The Rayleigh Brass Band played during the day and a choir comprising staff and residents of Stisted Hall treated the audience to a number of familiar songs. A Zumba demonstration by Katie Roberts, a children's magic show with Roy Perry, the heads and tails competition and various raffles and Tombola draws further filled the day with enjoyment and excitement.
There were stalls manned by members of the Lions Club of Southend on Sea and the Essex Masonic Library and Museum. Hamilton House Publishing had a number of masonic books on show including The Key to Modern Freemasonry by Charles Lawrence and two books by David West entitled The Goat, the Devil and the Freemason and Things to Do When You have Nothing to Do. They were also promoting their new Masonic Research website and had an internet connection so people could see what it was about.
So, all in all, despite the weather, the Stisted Hall Summer Fete was as good as ever with lots to do and see for all the family. And of course there was also ……… the traditional cream tea!
More photographs of the day (click the first thumbnail to enter the slideshow).
Also see what happened at the Stisted Hall Summer Fete in 2016, 2015, 2013 and 2012.