Welcome to St Laurence Lodge No 5511

We are Essex Freemasons in England, in the UK
St Laurence is a Freemasons lodge situated in the Masonic Province of Essex and we are therefore Essex Freemasons. Our lodge was founded in 1935 and is warranted under the United Grand Lodge of England. We have always met in Upminster, Essex which is in the London Borough of Havering on the east side of London.
St Laurence Lodge welcomes new members.
HOWEVER, for men living in the Southend area who are interested in becoming a Freemason, we can highly recommend Nore Lodge No 3610, which meets at Saxon Hall, Aviation Way, Rochford, Southend. This is a friendly lodge with good ritual that has a lot of fun while raising money for charity. Please contact us if you would like to be put in touch with this Southend Lodge.
We are an innovative and growing lodge of Essex Freemasons and as a result have a programme full of interesting meetings and events planned for this year and beyond. Some of these will include ceremonies for the initiation of new candidates who want to join us and become Essex Freemasons while others will advance the masonic development of our brethren. Some of our brethren will take part in specially arranged ceremonies at other lodges associated with St Laurence. See our events page for past and forthcoming masonic and social events.
*** Topgolf Social Evening - 21st May 2022 ***
*** St Laurence Lodge Meeting - 12th March 2022 ***
*** St Laurence Lodge Meeting - 8th January 2022 ***
*** American Lodge Meeting ***
*** Tarantino's Restaurant - 20th November 2021 ***
*** St Laurence Meeting - 9th October 2021 ***
*** PC Bona Mapianda ***
*** A Talk for Brethren in Wiltshire by W Bro David West ***
*** Key Workers during the Covid-19 Pandemic May 2020 ***
*** Delivering Sunday Lunches to those in Need ***
*** Covid London ***
*** The Railway - 10th February 2020 ***
*** Installation Meeting - 11th January 2020 ***
*** Five Minute Lectures ***
*** Othello's Restaurant - 13th December 2019 ***
*** W Bro Ed Fehler's 50 Years Certificate ***
*** Ceremony of the Keys - 2nd December 2019 ***
*** Bulphan Lodge Meeting - 14th November 2019 ***
*** Rectitude Essay UPDATE - September 2019 ***
*** Discover Freemasonry ***
*** Pizza Express - 23rd August 2019 ***
*** Essex Mark Master Masons Golf Day ***
*** Lodge of Daily Advancement Consecration - 16th July 2019 ***
*** Ten Pin Bowling - 22nd May 2019 ***
*** Bulphan Lodge Meeting - 9th May 2019 ***
*** Le Touquet Lodge Meeting - 4th May 2019 ***
*** St George's Day Celebration 23rd April 2019 ***
*** Seven Apprenticed Freemasons ***
*** St Laurence Meeting - 9th March 2019 ***
*** Cuba Trip - February 2019 ***
*** Punjabi Lounge - 15th February 2019 ***
*** Prince Edward Duke of Kent Golf Tournament (Updated) ***
*** Tercentenary Celebration of the Founding of the Premier Grand Lodge ***
***Lodge of Instruction Update ***
*** Upminster Masonic Hall Improvements ***
*** Masonic Charitable Foundation Videos ***
*** What's it like to be a Freemason ***
*** Freemasonry - What's It All About? *** .
New members
We welcome decent and trustworthy men who want to become Essex Freemasons and also want to learn about the history, secrets and mysteries of Ancient Freemasonry. These will be men who want to be part of a worldwide fraternity whose members enjoy each other's company and who are normally at least 21 years of age. Men may also apply who are of a minimum age of 18 years, although a mature disposition must be demonstrated.
Those who want to learn who can become a Freemason, how to become an Essex Freemason and how to become a member of St Laurence Lodge, please see the Join Us page. You can also use the contact form to email the Lodge Secretary. It can be very daunting to contact someone you don't know but there will always be a warm and friendly welcome waiting here at St Laurence Lodge. We can assure you that rank and fortune are not important to Freemasons or Freemasonry. Furthermore, neither are religious choices, colour, creed or sexual preferences and all suitable men are truly welcome. So if you would like to find out more about Freemasons and our lodge, how to become an Essex Freemason and how to join us, please don't hesitate to get in touch.
The Provincial Grand Chaplain gave an oration for the benefit of a newly made brother at a previous meeting. He spoke about the principles of Masonry and the fact that all Freemasons within its order are equal. It is a very nice piece which you can read here. .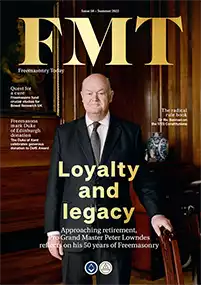 The magazine Freemasonry Today is an official publication from the United Grand Lodge of England. It is published four times a year and packed with information, articles and stories. You can access it online without charge. Please do have a look if you are interested in freemasonry.
Discover Freemasonry.

Our members
Our Lodge is old enough to have traditions which we enjoy and yet young enough not to be swamped by them. The ages of our members range from 23 to nearly 90. We have brethren in the building trades, a printer, people in insurance and property. Also an accountant, an author, a trainer, a commercial diver, people in computing and office equipment, a book binder, a taxi driver and a few retired folk. St Laurence Lodge members generally live in South East Essex and East London. In Romford, Hornchurch and Upminster (within the Borough of Havering), Brentwood, Grays, Southend, Harlow, Barking and Dagenham, Chelmsford, Billericay, Witham and Basildon.
When and where
We meet four times a year on a Saturday at the Upminster Masonic Hall in Deyncourt Gardens, Upminster, Essex, England and you can travel to the hall quite easily by road or rail. There is plenty of parking at the Masonic Hall should you wish to drive there or Upminster Station is only a 10 minute walk. Our meetings usually start around 3:15pm and the following festive board finishes at about 9:30pm. Many other Freemasons' lodges also meet at this masonic hall, which has been renamed "The Square at Upminster". Ingrebourne Lodge, Abbots Hall Lodge, Engayne Lodge and Upminster Hall Lodge (our family lodges) are among these.
Our Lodge of Instruction is held between September and May on Tuesday evenings from 7:30pm to 9:30pm at the Rush Green Centre in Romford, Essex. You can attend as soon as you become a Freemason. In fact it is most desirable because you will learn about Freemasonry and the ritual. You will also make life long friends.
The Future of Freemasonry
The respected Social Issues Research Centre in Oxford previously released a comprehensive and independent report on the future of Freemasonry. As Nigel Brown, the Grand Secretary said, "the report suggests that, contrary to much misleading commentary, Freemasonry does in fact demonstrate genuine openness and transparency. It concludes that Freemasonry is arguably more relevant today than ever before. In particular"......... read more.